Is the Bay Area Curve Flattening?
How much is good? How much is good enough?
by Sudha KV., Mar 26, 2020
Listen to the Stories
In the first part of this series, I looked at early data to see how the Bay Area was doing compared to the rest of the country, given we instituted social distancing and shelter in place early. If you have not read the first article, I request you to do so, because this builds upon information presented there.
In this article, I first present some updated data for the Bay area from the last part. Then, I try to look at something that is on the top of my mind - and I believe is relevant to everyone in the country:
When can we really get out of this? When should we? Easter or 18 months?
Is Social distancing working?
Stay home, maintain your distance with discipline. It is working. Here is an update to the numbers shown in Part 1.. Early distancing helped us get on a less steep growth path than New York. I would like to thank corporate leaders of the Bay Area who asked employees to work from home from early March and political leaders who instituted Shelter in Place when the numbers were really low.
Below is a graph plotting the total cases we have vs New york state over a 11 day period. There is a log curve of the same graph. The less steep this line is, the slower we will grow. Click on the buttons to see the graphs.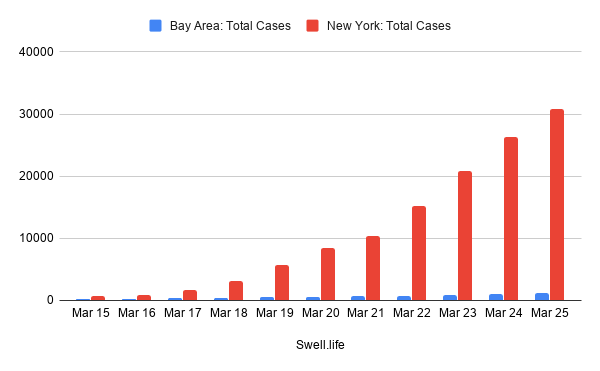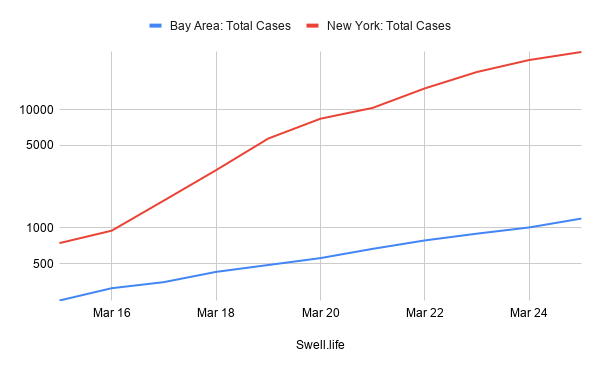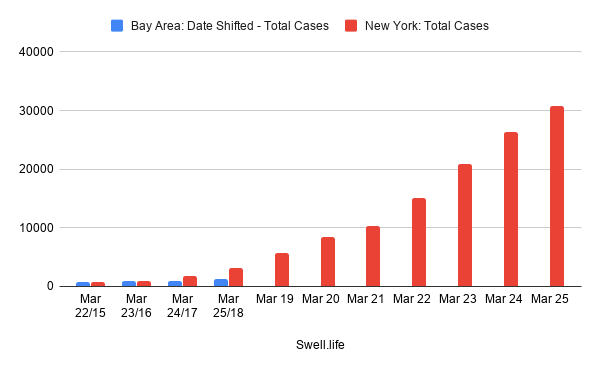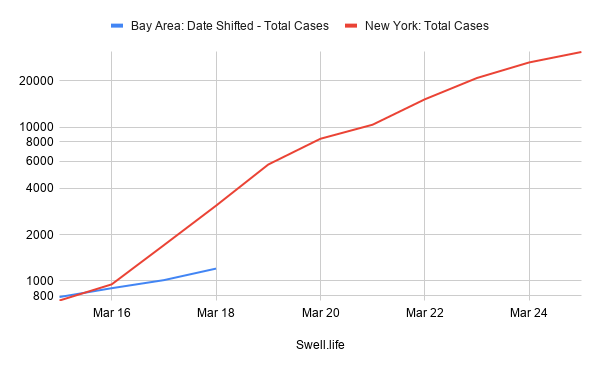 For the statisticians who wanted to account for possible lag - the musings were that the Bay area is really not on a slower pandemic trajectory, but rather just started a few days after New York - I have provided a date shifted version that compares the bay area with new york starting from when they both had a similar number of cases (Mar 15 in New york and Mar 22 in the Bay Area).
We have a flatter curve, without a doubt - so everything that companies in the bay area did to help employees stay home starting early march, that people did to adhere to early warning signs and what the governments did to further that mission by instituting shelter in place, appear to have helped us. We still have a curve, and we are on the growing edge of that curve, so this is not the time to relax. But it is a slower growth curve.
So, I come to the next part of the question:
When can we really get out of this? When should we? Easter or 18 months?
I am not on any political agenda here - all I want is to come up with numbers that show yes, we can move on with life as before, or no, it is still too early. To be honest, I am personally on the fence on this - as the mom of two young kids who are driving me up the wall staying at home, I would love to get them back to school, but I also completely fear getting them back to school and exposing them to risk, especially since they have been easily susceptible to bronchial infections in the past.
So, as I went to take a look at this, I realized we have an issue with current data.
Q1: How much testing is happening? Are you able to get tested?
There appears to be no good source for the test results or lack of tests. Many of you have very helpfully provided sources, but all good sources finally pull their data from the cdph.ca.gov site for California. And that source appears to be woefully lacking in reliably reporting tests given the many private institutions that are involved and how decentralized they are. Today the numbers seem much better (66,800 tests on Mar 25 compared to 26K reported the previous day and 22K reported on Fri). Per https://www.latimes.com/projects/california-coronavirus-cases-tracking-outbreak/, "Gov. Gavin Newsom has acknowledged that it is a significant undercount".
And these issues are not isolated to California. The country is going to struggle with this as private institutions step in to help with testing and there is no centralized mechanism to collect results.
Q2: How many ventilators are there in your area?
We are killing our economy to help protect lives, without any context. Are we doing too much or too little? How do we know how many ventilators are there in health care centers in our area? I have found no way to reliably compute this. How many facilities (health care clinic, hospital, nursing home, old age home, etc) in your area carry ventilators and how many?
Project Covid Data
Unless we know what the numbers are, we have no way of actually saying whether we are doing enough. We are just driving blind. And this will only result in panic, hype, fear and chaos.
I think it is time we come together as the public to gather information. There is really no other way I could think of at this time to mobilize this level of reporting. I am calling this Project Covid Data to gather this information. It will be a website with a simple form to report numbers, with no personal information. It will report results in your community. All data gathered will be fully anonymous with no personal or medical data - just numbers, more numbers and information - I just love numbers, dont really need to know who you are :). We only require your commitment to honesty and your commitment to spread the word.
We must know, with data, how our community is faring and it is time we, as citizens, start to gather this information. I am committed to reporting this information for all geographies that participate, anywhere in the world. If your community gets together and reports information, you will get reliable information back for your community.
Please forward this to everyone you know so that the word spreads. At this time, I am working on getting the initial version of Project Covid Data up asap (looking to make it happen by the weekend or early next week). Follow us on your Social media of choice (links below), so you get an update when the website goes live. And please ask your community of friends and family to follow us so they can get updates.
Let us help one another. Let this be a pandemic that will be dealt with with the help of data, and not just with fear.