Bay Area is Flattening the Curve
Early data indicates effectiveness of Shelter in Place
by Sudha KV., Mar 23, 2020
Listen to the Stories
I have been a resident of the city of San Francisco for over two decades. In this time, I have seen two devastating economic recessions (the dot-com bust and the wall street collapse), with the coronavirus epidemic being the third. And I have seen this city rise up from the ashes time and again.
I have also witnessed "unique" policies enacted that set a guidance for the rest of the nation. Now, not all of these policies have been successful. But they definitely indicate the willingness of the people and its leadership to take risk and try new things, to experiment. And this is perhaps why we are the entrepreneurial capital of the world.
The latest such experiment is Shelter-in-Place, which the Bay Area was the first to institute in the entire country, without any federal support or mandate. So, I decided to take a look at how this experiment has played out. And so far, the numbers seem to indicate that this was not only a wise decision, but will help us come out of this far quicker than anyone else (provided we can limit people travelling into or outside of the bay area and continue to maintain social distancing), And quicker recovery will mean that the economic impact is likely to be much lower than what it would have been had we done this sometime later, after more cases were allowed to spread. Now, I must caveat this with it being early days. But the numbers appear to indicate that aggressive distancing and lock-down policies are highly effective when applied early.
The Bay Area put its Shelter in Place effective Mar 17. I have compared data from Mar 15 to about 6 pm PT on Mar, 22, which was the time of this writing. And, I will continue to update this article over the coming days with more data.
This article examines data from two major states in the US, namely CA and NY. It also looks at some regions within CA, including the Bay Area and Los Angeles County. And finally, it looks at CA vs the rest of the US as an aggregate. For the purpose of this article, Bay Area numbers use the aggregate numbers from the following counties: San Francisco, San Mateo, Santa Clara, Alameda, Contra Costa, Marin, Santa Cruz, Solano, Sonoma and Napa.
Number of coronavirus tests conducted
There is no good data source I could find on this - if you have any, please do send them my way. The best figures I could find indicate that California has conducted about 23,200 tests, New York has conducted 32,427 tests. These figures are about a day or two old. The reason it is important to know how many have been tested is because I want to put aside the argument that NY has tested more and hence has reported more cases. The numbers indicate that both states have conducted similar numbers of tests on their population.
Bay Area vs New York
First, let us compare the Bay Area to New York. On Mar 16, before shelter in place, we had 310 cases in the Bay Area with 5 deaths, and 950 in New York with 6 deaths. Here is how much the virus has spread in the past 6 days in these regions. The Bay Area is now at 786 cases and 13 deaths, while New York has 15168 cases and 114 deaths.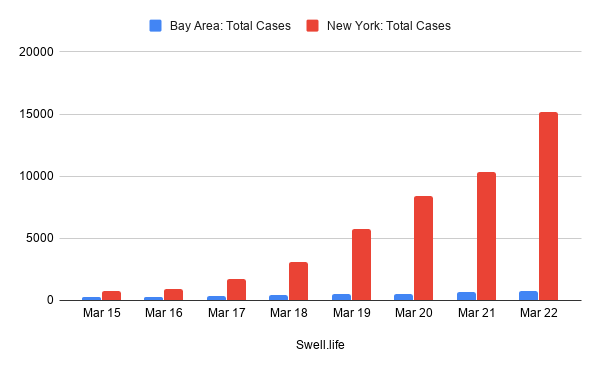 Bay Area vs California
On Mar 16, 310 of the 392 cases in California, or 79% of the cases, were in the Bay Area. Today, six days later, 786 of the 1555 cases in California, which is 50% of the cases, are from the Bay Area. The deaths have fallen from 83% (5 of 6 cases) to 44% (13 of 29 cases).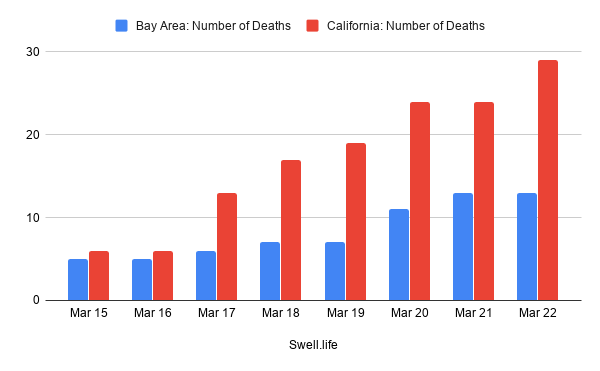 Santa Clara County vs Los Angeles County
In the Bay Area, on Mar 16, Santa Clara county accounted for 138 of the 310 (44%) cases and 4 of the 5 (80%) deaths. Shelter in Place was instituted in the Bay Area and so we compared it to Los Angeles County, which had 94 cases and 1 death on Mar 16 and now has 409 cases with 5 deaths.
California vs the US
We then look at California vs the rest of the US. California's leadership acted early to institute social distancing effectively amongst its huge population. It is the most populous state in the country, with double the number of people in New York. The graph clearly indicates that California has been much more effective in flattening its curve compared to the rest of the country.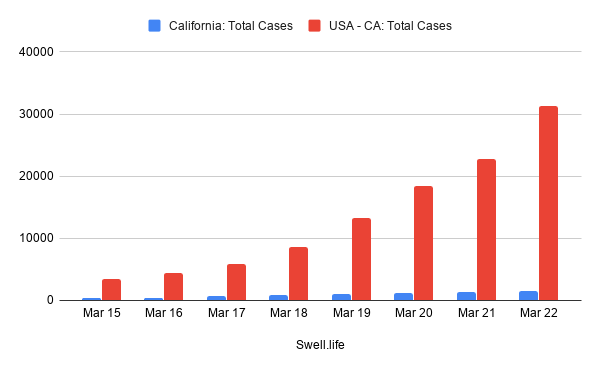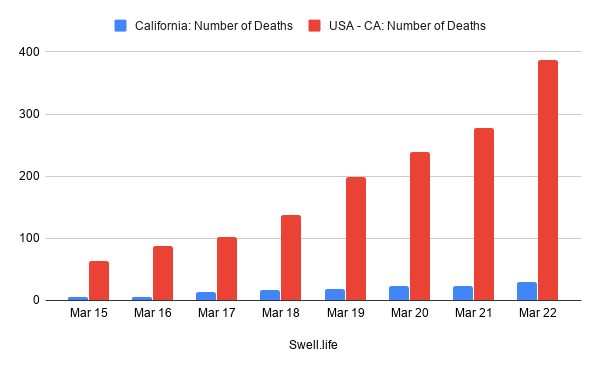 In summary, these are early days. But the early Shelter-in-Place by the Bay Area leadership and adherence by the community, appears to have made a huge difference in the spread of the virus in this community.
Please come back for regular updates over the new few days and weeks. Follow us on Social Media for updates.
Mar 24, 7:15 PM PT: An update.
Thank you everyone for your comments on the above article. Based on the many comments I received, here is some followup information.
I do understand and clearly indicate in my article that these are early days and early data, that is subject to change. As a resident who is currently suffering through the lock down, the purpose of my analysis was to see if this is worth the trouble we are putting ourselves through. And the numbers look promising.
And it is equally early days for other states and regions I have used in my analysis. So all lagging indicators are lagging everywhere.
No one should read my article and assume I am indicating things are all well. I have no crystal ball for when this pandemic will subside. My analysis just shows how we are doing compared to another region. My analysis does not indicate the Bay area is not growing in numbers. It is still early days and I have no idea where the peak will be and how bad it will get.
I have received recommendations to do more sophisticated analysis, for example projecting based on per capita numbers to account for population density. Population density is complex - it is determined not just by the number of people, but also by the area of the region, and there are variations within states and counties. I was also recommended to use percentages. However, my goal here was to do a basic chart, in line with the approach I am seeing everywhere. Experts everywhere are projecting the pandemic and its growth numbers by using absolute numbers for total cases and deaths. I am hoping this will inspire people with access to more granular data and statistical expertise to be able to do further analysis.
There were some that recommended I show logarithmic charts to account for the disproporitional numbers I was comparing and highlight the actual difference in the pace of the growth. That made sense to me and so here are some of the charts in log scale. If you know your math, you will understand these numbers show that while the bay area cases are growing, the pace of growth is much less steeper.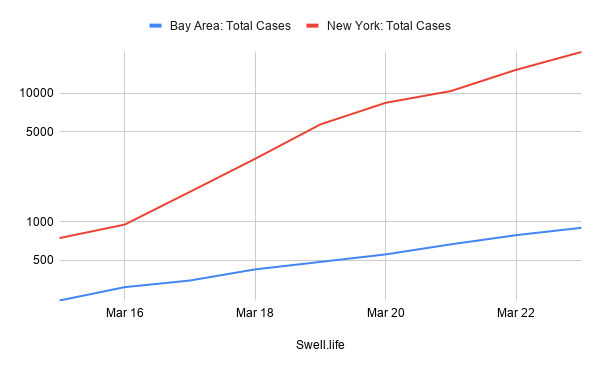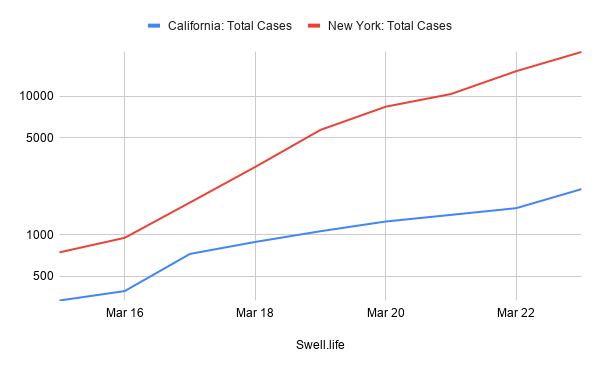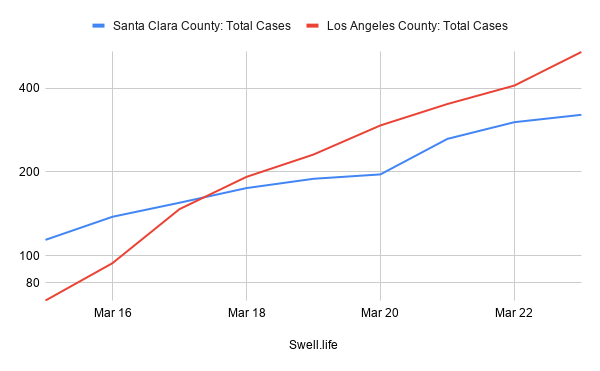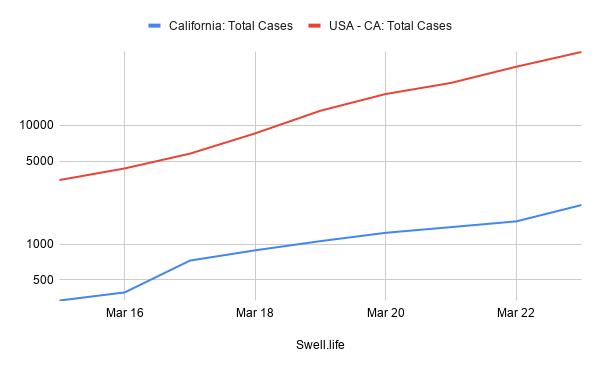 As a techie and geek, with an interest in health and what is going on around me. I did this post simply to satisfy my personal curiosity and to find a data driven answer to the question that is on all our minds - is the social distancing we are doing actually effective in flattening the curve?
I did this because I am personally very passionate about health - my latest venture, Swell.life, is an audio based social network for health and wellness. We were planning on launching our app at SXSW but that show got cancelled. We will still release the app in a week or so, but at this point what is on everyone's mind is the coronavirus, and that is the reason why I took a break from work to just do this analysis.
Please stay safe. And follow the advice of medical professionals to get through these unprecedented times.
Read the next article on this Series here: Is the BayArea Curve Flattening? How much is good? How much is good enough?.
Sudha K Varadarajan
Founder, CEO, CTO
Swell
Sudha has an MBA from Harvard Business School and an MS in Computer Science and Engineering from the Univ. of Illinois at Urbana-Champaign.

References
https://www.worldometers.info/coronavirus/#countries
https://web.archive.org/
https://www.10news.com/news/national/coronavirus/southern-california-cases-of-coronavirus-includes-child-40-cases-in-los-angeles
https://abc7news.com/6008027
https://twitter.com/danbrekke
https://www.latimes.com/projects/california-coronavirus-cases-tracking-outbreak/
https://www.sfgate.com/bayarea/article/Coronavirus-updates-Bay-Area-Contra-Costa-death-15145370.php
https://sanfrancisco.cbslocal.com/2020/03/21/coronavirus-pandemic-deaths-san-francisco-bay-area-deadliest-day/
http://publichealth.lacounty.gov/phcommon/public/media/mediapubhpdetail.cfm?prid=2275
https://en.wikipedia.org/wiki/2020_coronavirus_pandemic_in_New_York_(state)
https://en.wikipedia.org/wiki/2020_coronavirus_pandemic_in_California
https://en.wikipedia.org/wiki/2020_coronavirus_pandemic_in_Washington_(state)
https://www.cdc.gov/coronavirus/2019-ncov/cases-updates/testing-in-us.html
https://ourworldindata.org/coronavirus-testing-source-data
https://www.sfchronicle.com/news/article/CA-s-coronavirus-testing-capability-soars-but-15147030.php
https://www.businessinsider.com/new-york-state-coronavirus-testing-compared-to-other-countries-2020-3
https://www.doh.wa.gov/emergencies/coronavirus